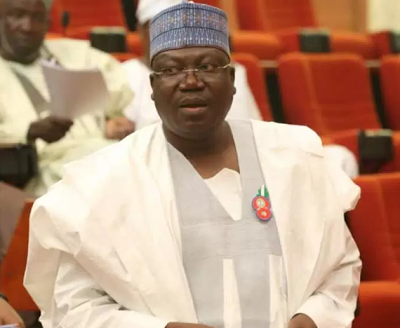 Senate will receive Buhari's ministerial list this week- Lawan
Chidi Samuel|
Senate President, Ahmad Lawan, on Wednesday, said President Muhammadu Buhari will transmit the list of ministerial nominees to the Senate this week.
Lawan made the disclosure during plenary following a point of order by Senator Bassey Akpan.
The lawmaker representing Akwa Ibom East, had urged his colleagues to mount pressure on President Buhari to transmit the ministerial nominee list to the chamber for consideration and approval given that the Senate will embark on its annual recess in two weeks.
He said, "Mr. President, in view of the yearly long recess of the Senate and the House of Representatives, will embark upon in two weeks time, there is need to urge President Muhammadu Buhari to forward the much expected ministerial list to the Senate for screening and confirmation.
"This is very important because if such list is not made available for the required legislative attention before we embark on the long recess, there will be no ministers and by extension, the federal cabinet for the President to work with till September.
"Making the list more urgent now from the President before our long recess, is the fact that if it is not made available, the concerted effort being made by both arms of government to return to the yearly budget cycle to January- December, will be defeated.
"On this note, I call on the President of the Senate to inform President Muhammadu Buhari of the need for the ministerial list before we embark on recess."
Responding, the Senate President said informed the lawmakers that President Muhammadu Buhari had been working hard to conclude work on the ministerial list and would submit same to the Senate before the end of the week.
Lawan said, "Let me on the strength of this motion, inform the Senate that the Executive arm of government is working very hard on the ministerial list.
"In fact, the list, based on information at my disposal, will be forwarded to us by the President before the end of this week.
"May I, therefore, appeal to us all, to be ready to make the necessary sacrifice in terms of sufficient time, to be spent in carrying out thorough screening and confirmation of appointments of the expected ministerial nominees."